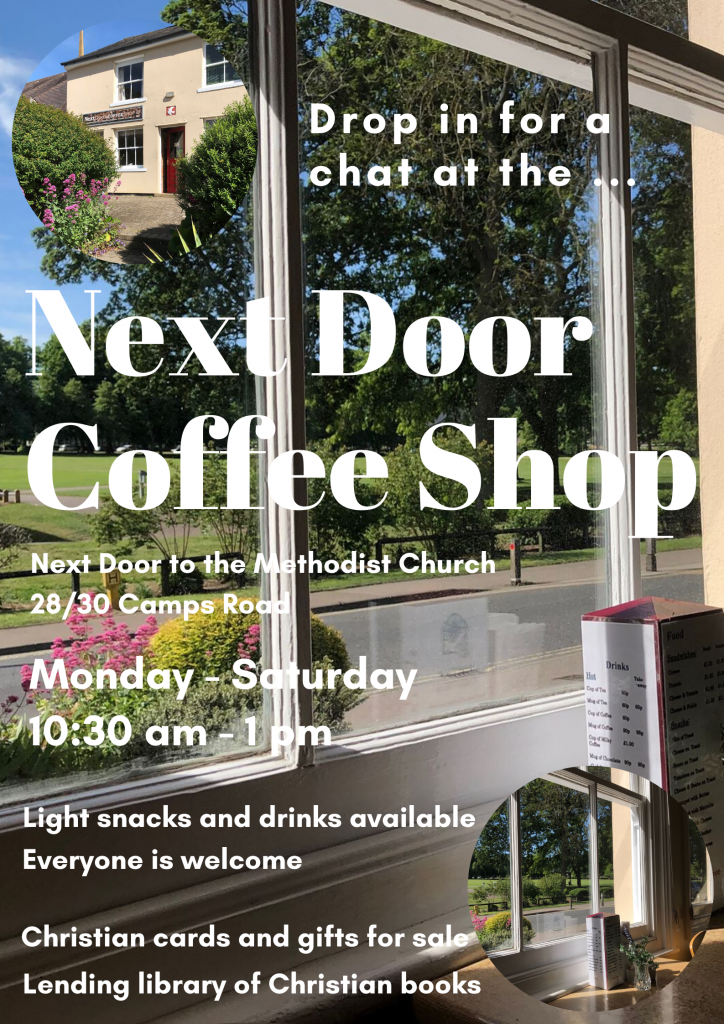 Currently closed till further notice.
Next Door is a Christian centre for caring, run by members of Haverhill Methodist Church
Come and join us:  Monday to Saturday 10.30am to 1pm
You'll find us next door to the church (i.e. 28 Camps Road).
Café
We offer:
A friendly environment
A listening ear
Somewhere to share a burden
To enjoy a cup of coffee and a homemade cake or a sandwich
Somewhere just to have a quiet chat with friends.
You may be sure of a very warm welcome and excellent value for money!
Bookshop
Our Christian Bookshop is also located in NextDoor:  a good selection of cards, small gifts and Bibles.  We can also order Bible Study Notes.  Feel free to pop in and browse anytime.
The Karen Hurrell Memorial Library is located in Next Door, where you may borrow from the Christian books available.
There is also a Prayer Room upstairs, available on request, where you may go to pray alone or with one of the staff.
Contact:
Next Door 01440 705 972
Roger Arrowsmith 01440 705431 (Coffee Shop)
Linda Arrowsmith 01440 705431 (Bible Study Notes)
Kim Strowger 07904 408 714 (Cards & Gifts)