Meetings currently suspended.
The Craft Group meets on the 2nd and 4th Tuesday's of the month, from 1pm till 3pm in the Church Coffee Lounge, with many people just dropping in and out as suits.
During the year we have supported Many charities, as you will see from the photographs.
We have been involved with knitting for a Spring Fayre in Trumpington, poppies for a display in Church, Trauma teddies for the emergency services in the Suffolk area and more recently Twiddle Muffs for dementia patients in Addenbrooke's.
We also knit prayer shawls which we give to anyone we think will benefit from having one, either because of  illness, bereavement, had a baby or getting married.
We have taught knitting and stitch carding to those who have come to our group and offer Cross Stitch, Crochet and Tatting.
Everyone is welcome, all abilities, male or female and we always enjoy seeing other people's craft.  We also offer colouring for those who just want to sit and relax.
Although the session runs for 2 hours, people can come and go as they like and it is entirely free.  We are able to offer materials due to the generosity of members of the congregation.
We are a lively group who perhaps spend more time nattering than crafting so we don't bring along too difficult a craft as we end up having to take it out due to lack of concentration.
In the lead up to Christmas the group became involved in the Christmas Angels project. Christmas Angels originated from North Shields and Whitley Bay Methodist Circuit and is supported by Newcastle Methodist District aiming to share God's loveand to bless the communityin public places and community spaceswith a Christmas Message.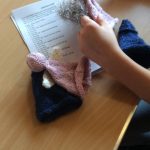 We knitted over 450 Angels, attached a tag with a Christmas Message on and left them for others to find. They were placed in shops, outside schools, churches etc. We had a lot of response from people who found them (see here).
In the Christmas story, angels always come with a message to share and our aim is to share God's love and to bless the community in public places and community spaces with a Christmas message.
My number is 01440 423263 if you need any more details.
Janet